Friday, June 5, 2009
From the Highly Anticipated: Blueprint III Album
Download here:
http://www.zshare.net/audio/610011287642f8ee/
Posted by

Socially Flyy
at 7:27 PM
No comments:

Wednesday, June 3, 2009


Featuring My Presidents... Pimpin K9, Beat Roc, Traxamillion!
Posted by

Socially Flyy
at 5:45 PM
No comments:

Tuesday, June 2, 2009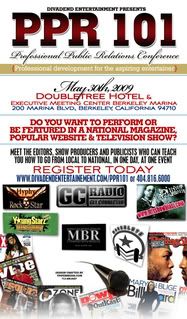 This past weekend I attended the PPR 101 Conference in Berkeley Ca. The conference was created by Chiq Simms the "Goddess of PR" and Louis Anthony of Divadend Entertainment (
http://divadendentertainment.com/
).
The PPR 101 Conference is social networking to inform and motivate local artist, management, labels etc. on the most effective ways to receive maximum exposure and visibility in the media. The conference consisted of panel discussions and an artist showcase, which select individuals were chosen to go on to perform on BET, 106 and Park.
Attendees had the opportunity to network & inter act with some of the top entertainment journalists, editors, critics, publicists, marketers and television show hosts in the game.
Now, I'll be first to admit… When I first heard about the conference coming to town, I was a little apprehensive of the whole format. Because we've seen so many similar events before that didn't produce any results. But, I did my research and read the testimonials of the event in other cities and I was convinced it was worth checking out for myself. And I'm glad I did. Because Chiq Simms delivered on everything outlined in the event. I met some of the coolest Tastemakers in the game, networked with other prominent individuals in our local artisan community, and got to reconnect with other industry professionals and artists who I already know, but never get the chance to sit down with face to face & see what type of synergy we can make together.
The topics that were touched on in the panel discussions are:
What is public relations?
What are a publicist's duties?
How to hire a publicist?
What to expect from a good publicist?
Learn what makes an artist newsworthy?
How to do you approach editors?
Reinventing and diversifying yourself and your brand
WHAT'S BEEF? ARE YOU INDUSTRY OR IN THE STREETS.
All the following topics were informative. I now have a better understanding of the Public Relations R&R and how vital it is to an artist upward mobility..
We also got to touch on a more personal and definitely touchy subject… Bay Area Music Politics.
Originally had planned on detailing this heated debate, how it escalated in the conference, who said what, and all that good drama you would love to hear about… But I don't think it's necessary to go into it, if you work in the local music industry, then its nothing you haven't heard before. And I don't want that drama to over cloud the main purpose of the event. Bottom line: You should've been there like the other tastemakers were to witness what went down.
But for the record: Big Rich's comment that sparked the fire in the debate about Bay Area Music & media was misinterpreted. But, Mistah FAB re-iterated on the subject and eventually cleared up the matter.
What I will say on the issue is… We (The Bay) need to get out the box… remove the box… Stop blaming certain individuals in the local industry for the un-success of your career! At the end of the day your career is what you make of it. If you're not receiving the support you feel you are deserving of from local media, radio etc. Then you need to get out there, make the moves you need to make for yourself and Expand your Market! Read a book or two on new techniques to maximizing your marketing potential in your market. There are plenty of successful artists in the industry who do not have singles rotating on the radio… but are making $$$, have a solid fan base and selling out shows.
Along those lines, I also think we need to have more industry dialogues/discussions like the ones we had on Saturday… The Lyricist Lounge Mixers was built on this format. We need some kind of platform once a month or quarter, where our local industry leaders, movers and shakers come together to discuss the issues that be. Maybe if we were able to air it out every once and while we wouldn't have so much built up frustration, that escalates into the type of scene that went down on Saturday, which defeated the point.
The artists showcase…
I was more than impressed by the really good talent whom performed. And I was definitely unimpressed by the ones who weren't talented. No need in mentioning the whack artists names… The ones who got it will be seen on 106 and Park very soon! Haha.
However, the showcase brings me to my next point… Etiquette: Something more than a few people were lacking in the conference. A "certain rapper" whose name shall remain anonymous, definitely needs to take an Etiquette 101 class! This I need to talk about!
So the story goes like this… A particular rapper had the opportunity to perform in front of the panelists and attendees. At the end of the showcase, the panelists then gave all the artists professional – constructive criticism on their performance, image, music etc. All the other artists LISTENED to the feedback of the judges, even if they disagreed with the comment's, they were still respectable and took it like pro's…. But OH NO!!!! This one particular rapper (not artist – just a rapper) couldn't except that he wasn't "the best thing since slice bread"… So he had to be the one to get ignorant and say some beligerant and so unprofessional things to the panelists.
In my opinion, he proved he is obviously too sensitive for this music industry. If you cant take criticism from professionals who have been in this game long enough to know who's got it and who don't… you need to re-evaluate your rap career. That blow up may have just cost him what little bit of 15 minutes he may have had one day… Not only did he blow up in front of members of the media; local industry cats seen it too. Not a good look! Even if, by some Miracle he steps his music game up and makes some tight music one day (probably not) his rep will always have that red mark on it…. Ok, I'm over him. Lets Move on!
Some of my favorite quotes of the day…
"There's too many rappers out here and not enough fans" ---Big Rich
"These artists are so into themselves, they act like they can't be fans of other artist's music" --- Mistah FAB
"Hip Hop artists need to take a self esteem course". --- Chiq Simms
"Peers shouldn't be running your co... A manager is supposed to MANAGE your career!" --- Chiq Simms
"You got 3 Minutes to get noticed or get black balled" --- Chiq Simms
"Promoting your label is just as important as promoting your artists." --- Chiq Simms
Summary:
Overall the PPR 101 Conference was both fun and productive. Chiq Simms is the Truth. She speaks the Brutally Honest Truth to be exact! And she produces results! She's is the definition of a Tastemaker.
It was unfortunate that more artists/labels/management from the Bay Area didn't take advantage of this conference, but the most influential voices of our artisan community were there to represent us and they can vouch for the results of the PPR 101 Conference outcome.
Mistah FAB is an excellent public speaker (& comedian lol). He definitely represented for the SF Bay Area in the highest regards. Big Rich is also a very intelligent and insightful person, his presence and insight was also essential to the success that resulted from the conference. We need to see you all on more dialogues like this!
To the Artists and Tastemakers who did attend – Erk Tha Jerk, Portia of Midnight PR, Netta B., PK of GMM, Dr. Post A lot, Queen B Chronicles, Carl Vincin, DJ Maniakal, Danielle Banks… Even Jacka, JC of M1Promo, Cellski showed up later in the evening… Umm I know I'm missing some names. But, to all the Tastemakers who took the time out their day to come through, it was a pleasure seeing you!
The artists you need to be worried about this year… Erk Tha Jerk, Big Rich, Jacka and NIO Tha Gift… Their names were mentioned at the conference and they are definitely being recognized… so you should pay attention too! The Bay is getting ready to be a Problem! Hahaha!
To the Chiq, Louis and all the panelists … Thank you for gracing the Bay Area with your presence and knowledge. We look forward to your return next year!
Here is some Flyy links for you... Give Support to gain Support!
www.queenbchronicles.com
http://divadendentertainment.com/
The Jacka:
www.myspace.com/thejackamobfigaz
www.TearGas61609.com New Single "Glamorous Lifestlye" feat. Andre Nickatina (produced by Traxamillion) Download here:
www.smcrecordings.com/GlamorousLifestyle.zip
Erk Tha Jerk:
erkthajerk.blogspot.com
--Official Trailer for "Plane in The Air" Video Here!
http://bit.ly/UOeld
Netta B:
http://myspace.com/nettabmusic
---Fresh New Video - "Dirty Boyz"
http://tinyurl.com/dirtyboyz
Mistah FAB Download the new single "Hit me On Twitter"
http://mistahfab.bandcamp.com/album/hit-me-on-twitter
(Produced by @robeyee)
Big Rich:
www.myspace.com/bigrich
---Pre order Your Copy of "Heart Of The City" today!!
http://tinyurl.com/d5wf4g
And I am that Tastemaker --- Socially Flyy! Get to know me.
Thank you reading!
Posted by

Socially Flyy
at 11:19 AM
1 comment: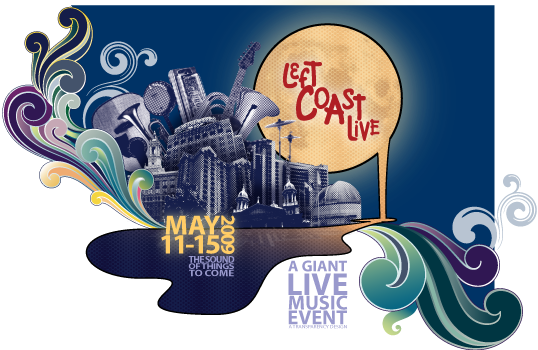 Friday May 15th I had the honor of hosting the 1st Annual Left Coast Live Festival in Downtown San Jose. Blessing the Socially Flyy stage was the Bay Area's own, Martin Luther and Kev Choice Ensemble.
The festival was a great success and the show's were absolutely amazing, to say the least. The synergy was overflowing (so were the drinks) & the crowd's response to the music was abso-freakin-lutely crazy! I met some of the most eclectic urban music lovers I've seen in my life, all come together in support of the Left Coast.
This was my first show of the summer and boy what motivation it was! It was definitely a re assurance, to me, as to why I love music and being in the music business. And most importantly, why the game needs me! Haha. I am looking forward to seeing what the Bay Area music brings about by the end of this year!
Martin Luther and Kev Choice are the truth! There can never be another Kev or Martin in this world, so make their music apart of yours and it will be a much happier world to live in! LOL. Luv U both!
Much Appreciation to the organizers of the LCL and Tommy Aguilar of Ungrammer, for putting me on. I love the South Bay's unified forefront we have built in support of the local artists and music community. 2010 is gonna be… well you just wait and see. :o)
Posted by

Socially Flyy
at 11:17 AM
No comments: