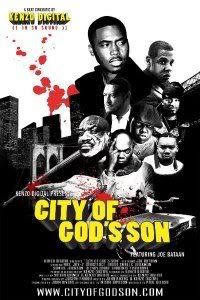 I've been on this for a minute now …A few weeks back I was at a friends house and they told me about this … I watched the trailer and downloaded the music project from the site and was instantly hooked. Not only because it features my favorite artists and songs but the aesthetics, creator Kenzo Digital, is bringing in this project is just phenomenal. I cant wait to see the Art Installation. Check it out for yourself:
"City of God's Son" is an experimental hip-hop opera starring Nas, Jay Z, Ghostface, Biggie Smalls, Raekwon, Samuel Jackson, Delroy Lindo, and Laurence Fishburne. It is a crime drama/coming of age tale of three fictitious characters growing up in a crime ridden mythical city in a jungle. This project explores the icon of the gangster in modern media, and weaves musical history and gangster film history into an operatic music based story of brotherhood and survival. An homage to 90's New York hip-hop, "City of God's Son" is the redefinition of the remix. Featuring legendary soul singer Joe Bataan. A sound film/hip hop opera by Kenzo Digital. To download the entire project for FREE and for more info please visit:
http://www.CityofGodSon.com
Join the
Facebook group
COMING THIS SUMMER: City of God's Son art installation: This summer I will be creating a new form of Cinema, Theater, and Opera in an outside gallery space in NY's Chelsea art district. There, the listener will be able to experience COGS in the form it was initially intended, as a psychedelic abstract combination of visual and audio sensory over stimulation and deprivation in a unique outdoor setting. The installation is not a literal interpretation of the narrative, but rather a space that will help drive the listeners own visualization of the story through a mix of color, live action movement and gesture, sound, and space.