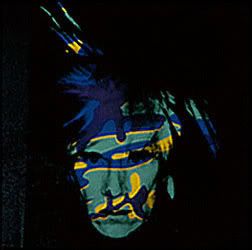 In case you didnt know, I am a Artsy Fartsy (with a socially flyy swag appeal)… Andy Warhol is one of my favorite artists. So I am Uber excited about this new exhibition opening in the Bay Area. I am so going to this! Would you like to join me?
Warhol Live, at the de Young from February 14 to May 17, 2009, presents the first comprehensive exploration of Andy Warhol's work as seen through the lens of music. This exhibition brings together a wide variety of works depicting pop music royalty, including Elvis Presley, the Velvet Underground, Mick Jagger and the Rolling Stones, Liza Minnelli, Grace Jones, Deborah Harry of Blondie, and Michael Jackson. Major Warhol silkscreen paintings, films and sound recordings, album covers, illustrations, and photographs inspired by music and the performing arts will provide a visual and aural score to Warhol's extraordinary work and life…
read more
SAVE THE DATE: WARHOL LIVE POP PARTY
REVEL IN YOUR OWN 15 MINUTES OF FAME
AT THE WARHOL LIVE POP PARTY AT THE DE YOUNG
Saturday, February 21, ArtPoint VIP Pre-party 8–9 pm, POP PARTY 9 pm–midnight
Join us to celebrate the opening of Warhol Live at the POP PARTY with specialty cocktails like the Nico-tini, Warhol Sour and Velvet Underground Punch, treats, exhibition viewing, go-go dancers, paparazzi and dancing to The Unauthorized Rolling Stones. Dress: Studio or Factory fabulous!
For the exhibit and party info click on:
http://www.famsf.org/deyoung/