Infinite: The power of the imagination makes us infinite.
Live out of your imagination: Nothing we can do can change the past, but everything we do changes the future.
No Limits: It is our duty as men and women to proceed as though the limits of our abilities do not exist.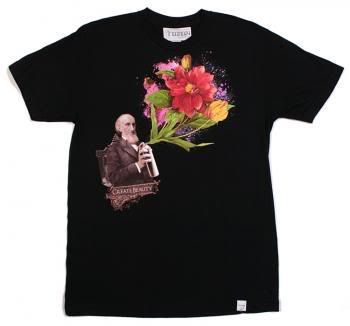 Create Beauty: The future belongs to those who believe in the beauty of their dreams.
Bolt of Inspiration: Charged by Imagination
Now that Im older I can't just walk around with big logos or meaningless taglines on my clothing because #1. Im not getting paid to be a walking billboard #2. My chess already draws enough attention, so if I am going to display anything in that area, there has to be a good reason to look. Lol.
I like the philosophy of the
Imaginary Foundation
line; "ecology" of being. Imagination, intuition, inspiration are basic to psyche. . . The aesthetics of the art work and the message each piece conveys, reveals my personal fashion statement.
These were a few of my personal Flyy Fav's for tee's and the meaning of each one. You can find your own personal inspiration in fashion
Click here to view full Imaginary Collection